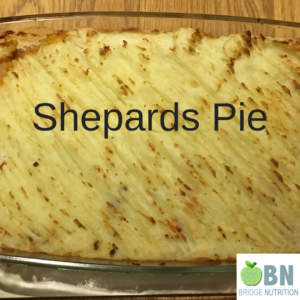 This recipe is the perfect winter warmer to come home to after a long day. As this recipe yields 6 servings it's ideal for a Sunday batch cook.
Ingredients:
– 500g of extra lean minced beef.
– 1kg of potatoes, peeled and halved.
– 1 onion, chopped.
– 250g mushrooms, chopped.
– 350g of carrots and parsnips, peeled and chopped.
– 2 teaspoons of thyme.
– 1 tablespoon of tomato purée.
– 2 teaspoons of Worcestershire sauce.
– Pinch of nutmeg.
– 100ml of milk.
– 60g of butter.
– 300ml of beef stock made with 1/2 stock cube.
– 1 teaspoon of extra virgin olive oil.
– salt and pepper.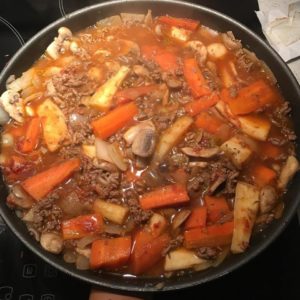 Instructions:
1. Boil the potatoes for 15 mins in salted water.
2. Preheat the oven to 200 degrees.
3. Heat the oil in a large frying pan and add the oil and 10g of butter.
4. Add that onion and mushrooms, fry for a couple of minutes.
5. Add beef and thyme and brown the beef. Drain off any excess liquid.
6. Add the tomato purée and Worcestershire sauce and stir.
7. Add the carrots and parsnips and cook for 2 minutes.
8. Add the stock and simmer for 15 minutes, stirring regularly.
9. When the spuds are cooked add the milk, nutmeg, and butter and plenty of seasoning and mash well.
10. In a medium oven dish add the beef mix and top with the mash, even the mash out so it is smooth.
11. Bake in the oven for 20 minutes or until the potato is starting to brown.
12. You should get 6 portions out of this and any extra portions can be frozen for future quick and healthy meals!
Enjoy! ?